Fencing Services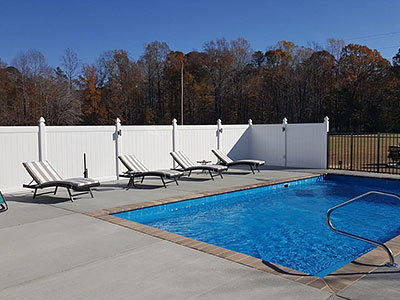 We at Northern Neck Service Group are a reputable and well-established company offering superior fencing services to clients in Northern Neck and Middle Peninsula. Our expertise lies in providing custom fence, railing, and gutter design and installation solutions that are reliable and long-lasting.

In addition to new installations, we also handle gutter and fencing maintenance, repairs, and replacements. We strive to meet client requirements and focus on offering client's value for money. The range of services our company provides include:


Fencing
Fences are a vital aspect of any property- residential or commercial. Whether you have acquired a new property and want to secure it, or need fencing installed on an existing property, we can help. As a company that has been in this industry for numerous years, we have the resources, skills as well as knowledge to provide you high-quality fencing solutions. Our company offers wood fencing, ornamental metal fencing, vinyl fencing as well as chainlink fencing and railings. We always use high-quality materials in all our projects and make sure that the craftsmanship is top-of-the-line. Read More About Fencing >>


Wood Fencing
While there are many new materials and products available on the market today, wood continues to be a popular fencing choice with residential and commercial property owners. There is something elegant and sophisticated about wood fencing, and we offer high-quality installations to our clients. There are various styles of wood fencing to choose from. Whether you want semi-privacy or privacy fence, we can provide the solutions you need. Our team will customize the design and style of the privacy fence to your property requirements so that you have a feature that is resilient and long-lasting. Wood fencing provides long term value, and we can create various designs and finishes. Read More About Wood Fencing >>


Metal (Ornamental) Fencing
If you like the idea of having unique outdoor features your property, you should consider ornamental fencing made of metals such as aluminum, steel, or wrought iron. We provide customized designs and make sure that these fences are installed to industry standards. Our team of designers is creative and will ensure that you have stylistic fences that complement the overall aesthetics of your outdoor spaces and the architectural elements on your property. These fences are available in a variety of colors and finishes, which makes it easy for property owners to get something that enhances the appeal of their home or commercial establishment. Read More About Metal (Ornamental) Fencing >>


Vinyl Fencing
Vinyl fences are a new entrant on the market compared to wood and metal fencing products. However, there are numerous advantages to using vinyl for fencing features. The material is available in a range of styles and colors and can be installed quickly. It is light yet durable, will not fade, crack, or warp when exposed to changing climatic conditions. It is also rot and termite-resistant, which makes it ideal for outdoor spaces. Vinyl fencing is also durable and can last for many years without requiring too much maintenance. It is a cost-effective option compared to wood and metal, which is why many people are now choosing to get vinyl fencing installed. Read More About Vinyl Fencing >>


Chain Link Fencing
If you need to add a security barrier to your property but do not want to block the view, chain link fencing is a good option. This type of fencing material is ideal for residential properties as well as large scale commercial areas. The installation is easy, and the fence can be constructed to the height and length that you require for your property. These fences are available in a range of colors, and they are incredibly long-lasting, which means you get value for money when you opt for them. We make use of high-grade materials that will be easy to maintain, look great, and perform well for decades. This aspect ensures you get value for money. Read More About Chain Link Fencing >>


Railings
If you have any balustrades on your property or want railing features installed on outdoor or indoor areas, we are the company that can help. We can design and install railings made of metal, vinyl, wood, and combination materials. We always customize our services so that you get railings to match the design and styling of various other features in that area. Every single aspect of railing installation will be handled to industry standards, and we use top quality materials in our work. It helps to ensure that you will have resilient, functional as well as aesthetically appealing railings that serve your purpose well. Read More About Railings >>


Gutters
Gutters are an essential aspect of any roofing structure. These features need to be installed well to last for many years and provide you the functionality you need. The right kind of guttering systems help to direct rainwater runoff from the roof to the desired locations. There are different types of gutter materials available, including aluminum, copper, and vinyl, and we can design all of these for you. Also, we design and install downspouts as well as any rain barrels and splash blocks that you need. All these features work in tandem to create a robust rainwater management system on your property. Read More About Gutters >>


Aluminum Gutters
Aluminum is a robust and hardy material that is ideal for gutters. We customize our services and offer seamless gutter design and installation solutions. These gutters do not have any seams or joints, which means you do not have to worry about leakages. Our team of experts will make sure that the aluminum gutters on your property are designed and installed correctly. You can choose from features of different colors and profiles based on your needs and architectural styling of your home or commercial building. These features require minimal maintenance and care, which also reduces the cost of ownership for you. Read More About Aluminum Gutters >>


Copper Gutters
Copper guttering is an additional feature used in many older homes. Modern-day property owners like the idea of getting these gutters fitted on their homes. Copper gutters are resilient and can last for decades; however, they do develop a patina over time. It means that they require some amount of regular maintenance and polishing to keep them looking good and prevent issues like corrosion etc. We provide seamless copper gutter design and installation services and also handle all types of repairs, service maintenance, and replacement requirements for commercial and residential property owners. Read More About Copper Gutters >>


Rain Barrels
Water is a precious natural resource and installing rain barrels on your property is an excellent way to store and use rainwater runoff from your roof. These rain barrels are placed at the base of the downspouts, which do not channel water into the central guttering systems. We will assess the area, make sure that the ground is stable, and then install the rain barrels where you need them. Not every property is suitable for rain barrel installations, and we will offer suggestions after proper inspection of the downspouts and the system you have. Read More About Rain Barrels >>


Splash Blocks
When it comes to managing rainwater runoff from your roof, it is essential to have the right kind of gutters and downspouts. Also, you need to make sure that you have splash blocks installed. These features are installed at the base of downspouts and direct water away from the foundation of the home. The elements could be made of concrete, vinyl, etc. and you can also choose one of different sizes and shapes. Experienced professionals like us should handle splash block installation. We will inspect the area, assess which types of / blocks you need, and complete the installations correctly. Read More About Splash Blocks >>


Rain Chains
Downspouts are a crucial aspect of any guttering system. Today many property owners like the idea of getting rain chains installed in place of traditional downspouts. These large chains could also be decorative. They are fitted to the opening of the gutter on the roof. The water cascades down through multiple levels and reaches the ground. It is crucial to install rain chains correctly and assess the space before fitting these features. They are not ideal for areas where the ground slopes towards the foundation of the home. Read More About Rain Chains >>


Diverters
Diverters have a crucial role to play in rainwater management on your property. These features are installed to direct the rainwater into the barrels in case you have these installed. Once the barrels are full, the diverters then channel the water into the downspouts and out into the areas where you want it to go. While the installation may seem simple, it needs to be handled by experts after proper assessment. We use good quality diverter devices and make sure that the installation is completed correctly so that the fittings perform well. Read More About Diverters >>

For fencing and gutter systems that are resilient, attractive, durable, and cost-effective, you need the kind of expertise and high-quality services we offer. We handle the design and installation of all types of fences and gutters at competitive price points. Our company offers customized services and makes sure that the final installations are right in line with your needs.

For any more information about our fencing products, feel free to contact Northern Neck Service Group at 804-435-1358 or send us your project details and queries through this Online Form, and we will call you within a short time.

We Provide Services to the Following Cities, Towns and Surrounding Regions of VA: